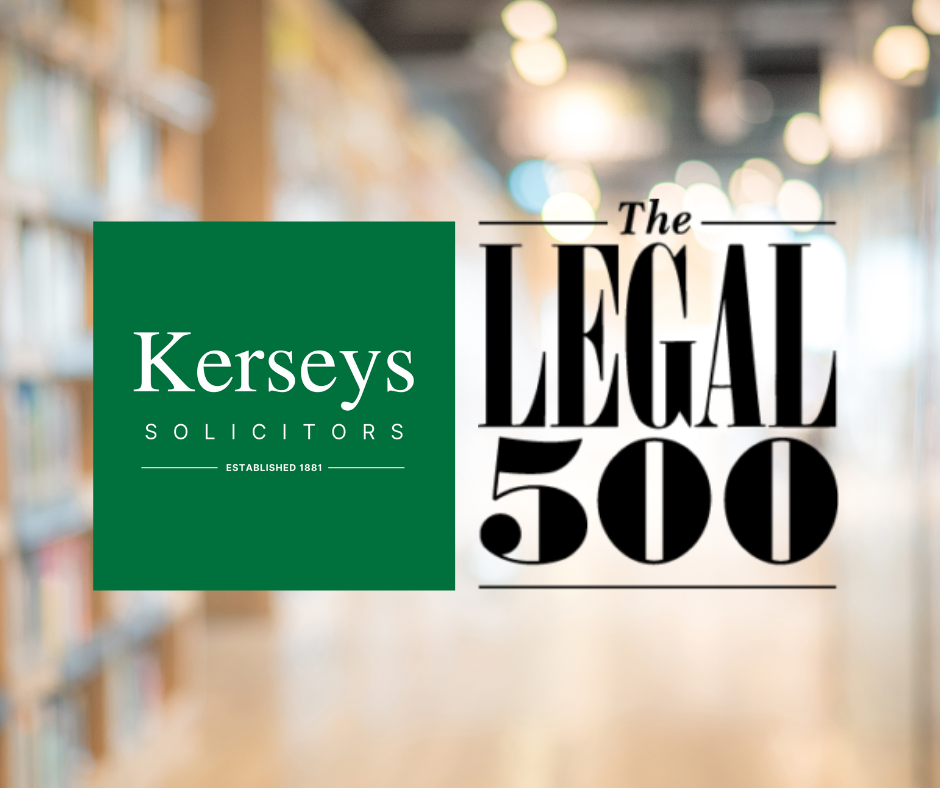 Legal 500 2020/2021 Results
Legal 500 2020/2021 Results
---
This year's Legal 500 results are now out! The Legal 500 is an annual directory that ranks lawyers and law firms across the different areas of law within which they work. Kerseys Solicitors have again been recognised for our specialist areas of law and lawyers. See the results below:
Family – Tier 2
Leading Individual Clare Thomas
Kerseys Solicitors LLP in Ipswich is not only highly respected in the local area, but also handles matters from further afield, particularly in the areas of public and private law children matters, and financial matters relating to companies, farms and pensions. 'Professional and sympathetic' Clare Thomas has a 'calm, pragmatic, professional approach balanced by her personal empathy'. She has a particular focus on complex financial matters within divorce, including business assets. Partner and children law expert Elaine Webb, is also recommended.
Practice head(s):
Clare Thomas
Other key lawyers:
Elaine Webb;
Testimonials
'Clare Thomas, former senior partner and now consultant in the family department guided me through a complex divorce settlement and procedures. I am entirely satisfied with the advice and practical support given during an emotionally charged time.'
'Clare Thomas was professional and yet sympathetic throughout. Her calm, pragmatic, professional approach was balanced by her personal empathy for my situation and the need to ensure that my best interests, and those of my three children, were represented within the rules of the law. She provided a steady hand at the helm in negotiating the stormy seas of divorce settlement, with a focus on what is fair and reasonable.'
'Communication is excellent. The written correspondence is clear, concise and accurate. My team are always able to update me swiftly, which leads me to believe they know my particular case and consider me a valued client. My recent experience with another local firm was dire by comparison.'
Family, Relationships and Divorce
---
Commercial Property – Tier 2
Clients appreciate the 'personal but professional approach' of the commercial property practice at Kerseys Solicitors LLP in Ipswich, noting that it is 'always happy to provide easy to understand, sensible and friendly advice'. 'Approachable, welcoming and highly knowledgeable' practice head Kimat Singh is frequently involved in multimillion-pound transactions, including those involving major residential development sites and major property portfolio restructurings. The firm has particular strength in property development work and in transactions in the retail sector.
Practice head(s):
Kimat Singh
Testimonials
'I have used Kerseys for ten years and have always received excellent service from the real estate team there. They have acted for me on more than £19m of property transactions in this period without any issues at all. The personal but professional approach that I have always received is the primary reason I have remained with them throughout the period. In addition, the ease of access to a partner has proved incredibly beneficial throughout some of the more complex property transactions they have acted for me on.'
'Kimat Singh has been the standout member of the Kerseys team in my opinion. He has always gone above and beyond what I expected in order to facilitate the work required. From answering emails late into the evening to joining conference calls when we were on family holidays, there has been no point in my dealings with him that I haven't been completely satisfied.'
'Kerseys is a small local firm of solicitors who treat their clients more as family rather than as a number. The commercial property team has extensive experience and are always happy to provide easy to understand, sensible and friendly advice without the need to over complicate matters or to draw matters out unnecessarily.'
Commercial Property
---
Corporate and Commercial – Tier 3
Kerseys Solicitors LLP in Ipswich handles corporate and commercial matters in sectors such as property and food retail. The expansion of the firm's practice has seen it involved in transactions of increasing value, as well as broadening the scope of its commercial work. Partner Kimat Singh leads the practice and associate Adrian Chaffey, who joined from Cripps Pemberton Greenish in London, frequently advises on the sale and purchase of corporate entities with substantial property portfolios.
Practice head(s):
Kimat Singh; Adrian Chaffey
Services for Business
---
Contentious Trusts and Probate – Tier 3
The dispute resolution group at Kerseys Solicitors LLP in Ipswich joins the ranking this year. It handles a growing flow of contentious trust and probate matters, including challenges to the validity of wills and disputes concerning powers of attorney, trusts and trustees, Inheritance Act claims and property-related matters. 'Her advice was extremely helpful and provided me with some security as I navigated the difficult circumstances,' says a client of partner Kate Barnes, who is 'very efficient and knowledgeable'.
Practice head(s):
Kate Barnes
Testimonials
'The vast majority of my dealings were with Kate Barnes, though I was referred to her swiftly by another partner and any other dealings I had with the team were highly professional. Communications were timely and clear, I was never passed from pillar to post and I got the impression people were across the details.'
'Kate Barnes immediately began to enable me to step back from the emotions enough to give sensible instructions and find a way forward. Her advice as to the path to take and how things would likely develop proved to be extremely helpful and provided me with some security as I navigated the difficult circumstances. This came from her knowledge, a business-like approach and communication skills for which I am very grateful.'
'In my experience with Kerseys, they centre on their clients' needs. I consulted Kerseys as they were so very helpful when my late father-in-law made his will, and they catered for his particular needs. When he passed away Kerseys were available to help out out with probate and any other help my wife needed. They are, in my opinion an exceptional family-run firm, and have been supportive to me in my present situation with a difficult probate matter.'
Work highlights
Defeated three separate challenges to the validity of a will on behalf of executors.
Resolving claims concerning the administration of an estate and the administration and distribution of a trust.
Resolved claims of 'mutual wills' made against executors appointed in subsequent will.
Disputes, Litigation & Mediation
---
Personal Tax, Trusts and Probate – Tier 3
Kerseys Solicitors LLP is well known in the Ipswich area for the preparation of wills and Lasting Powers of Attorney for clients, the administration of both testate and intestate estates, and the running and winding up of Will Trusts. It also handles Deputyship matters. Peter Awad's team includes the 'extremely helpful and sympathetic' Geoffrey Sutton and up-and-coming partner Leila Murray.
Practice head(s):
Peter Awad
Other key lawyers:
Geoffrey Sutton; Leila Murray; Thara Thangavel
Testimonials
'Geoffrey Sutton handled all my wife's affairs after her death. He, the secretary and the lady on reception of the company, were all extremely helpful and sympathetic during the handling of this whole affair. Mr Sutton's estimate of the costs for the operation was extremely accurate.'
'Kerseys solicitors has an excellent reputation within the town. It is well situated in the centre of town with car parking and bus routes, all within short walking distances of their central office. Geoffrey Sutton, his secretary and the lady on reception were all very sympathetic and helpful during this period. I can only speak very highly from my experience of the company.'
'Kerseys Solicitors has always had a good name for a quality service. Having to sort out the probate for my late father's estate was very daunting. The professional service from Kerseys made the whole situation easy and understandable.'
Wills, Trusts, Tax and Probate
---
Property Litigation – Tier 3
Kerseys Solicitors LLP in Ipswich handles property litigation as part of its broader dispute resolution practice. Lead partner Kate Barnes frequently acts for landlords in repossession cases, in which she has a stellar track record. The firm also acts for commercial land owners, residential landlords and private property owners.
Practice head(s):
Kate Barnes
Testimonials
'Kerseys Solicitors has a team that specialises in certain areas of law. This was very useful as I needed help with Agricultural Tenancy laws.'
'Kate Barnes kept me up to date via emails as time progressed.'
Key clients
East of England Cooperative Society Limited
Work highlights
Agreeing terms of transfer of land under compulsory purchase order.
Advice and representation concerning boundary dispute on development site.
Eviction of residential occupiers of a town centre commercial property.
Property Disputes
---
Employment – Tier 4
The Ipswich office of Kerseys Solicitors LLP handles both contentious and non-contentious work for both employers and individuals, including the drafting of employment documentation, advising on employee relations issues, managing restructures and redundancies, advising on business transfers, bringing and defending Employment Tribunal claims and acting in cases involving the enforcement of post-termination restrictions. Solicitor Adrian Green is the lead lawyer and he was joined at the end of 2019 by senior solicitor Adrian Chaffey from the London office of Cripps Pemberton Greenish. Partner and head of dispute resolution Kate Barnes handles employment litigation.
Practice head(s):
Kimat Singh
Other key lawyers:
Adrian Green; Adrian Chaffey; Kate Barnes
Employment Law Services for Businesses