Contact Kerseys Solicitors in Ipswich
Kerseys Solicitors in Ipswich has offices that are located conveniently in the town centre of Ipswich. The firm has had its office in Ipswich since it was established in the year 1881.
We are located near the main Ipswich bus station and also located near several car parks within a short walking distance. The office located on 32 Lloyds Avenue, Ipswich is also fully wheelchair accessible. If you require further details please contact Kerseys Solicitors in Ipswich today.
Kerseys Solicitors is recognised nationally as one of the top Legal 500 solicitors firms and we are accredited with high industry standards such as LEXCEL accreditation and we are also accredited by The Law Society in Family Law and Conveyancing Quality.
Ipswich Office
Kerseys Solicitors LLP
32 Lloyds Avenue
Ipswich
Suffolk
IP1 3HD
Telephone:  01473 213 311
Fax: 01473 257 739 or 01473 214 874
Email: [email protected]
---
Ipswich Office Opening Times:
Monday to Friday – 9:00am to 5:15pm
Saturday to Sunday – Closed
Family Law Department Saturday Opening Hours
In addition to the usual office opening hours above we also have our specialist Family Law department which is open from 9:30am to 12:30pm on the first Saturday of each month.
Please call us to book an appointment on 01473 213 311 or 01206 584 584.
You can also contact us on our Family Department mobile phone during our Saturday opening hours on 07731 584 054.
---
---
Car Parking and Public Transport
Links below are to the Ipswich Borough Council's website which will give you additional information on all the available car parks located in the town centre.
Car Parking in Ipswich
Click here to see a list of Ipswich car parks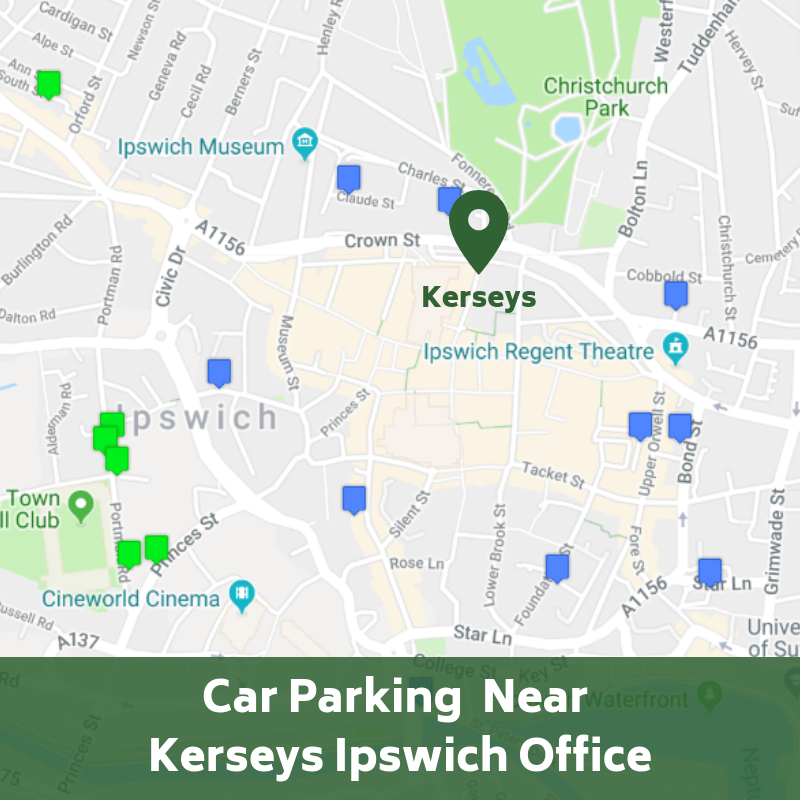 Public Transport in Ipswich
The link below provides more information on the availability of public transport in Ipswich:
Click here to see public transport information for Ipswich
Plan your Bus Journey here on Ipswich Buses website – Ipswich Bus Journey Planner
Contact Form
You can also contact our Solicitors in Ipswich by email using the form below.
---
How To Find Us
By Car
From the direction of Cambridge, Bury St Edmunds & Norwich
Leave A14 at the slip road at junction 53 and take the "A1156" to Ipswich. Approach the roundabout, take the 1st exit onto Bury Rd/A1156. Then at the roundabout, take the 2nd exit and stay on Bury Rd/A1156. Continue to follow A1156 and at the roundabout, take the 2nd exit onto Norwich Rd/Valley Rd/A1156/A1214. From the roundabout, take the 1st exit onto Norwich Rd/A1156. Go through 1 roundabout staying on Norwich Road and then turn right onto Peel St. Turn left onto Tower Ramparts and then turn right onto Lloyds Ave. Our offices will be on the left (32 Lloyds Ave, Ipswich IP1 3HD).
From the direction of Colchester & London
Go straight over the large round about where the A12 meets the A14. Leave by the exit signed Ipswich West and follow the A1214 for 3 miles into central Ipswich going straight at all roundabouts and traffic lights. At the end of Handford Road at the roundabout take the first exit onto Civic Drive which is a small part of dual carriageway. Take the third exit onto St Mathews Street (A1156), turn right into Peel St and then turn left onto Tower Ramparts. Turn right onto Lloyds Ave. Our offices will be on the left (32 Lloyds Ave, Ipswich IP1 3HD).
Parking
There is no parking directly outside of our Ipswich offices. There is ample pay and display public parking very nearby.
By Bus
The main bus station in Ipswich town centre, Tower Ramparts Bus Station, is a mere 2 minute walk from our offices. The majority of local bus routes stop here as part of their route.
The quickest way to walk to our office when disembarking at the Tower Ramparts bus station is to walk round to the right of the Sailmakers shopping centre towards Mecca Bingo. Start walking down the hill towards the town centre and we are situated approximately a 2 minute walk away on the left hand side.
Buses that stop at Tower Ramparts Bus Station are: 1, 2, 3, 4, 5, 5E, 6, 7, 8, 9, 10, 11A, 12, 13, 14, 15, 15A, 16, 37, 59, 60, 60A, 60E, 800.
By Train
Ipswich railway station is on the main London Liverpool Street to Norwich line, about an hour and ten minutes from London. Taxis are available at the station. Alternatively, our office is approximately a 20 minute walk away in the direction of the town centre (0.9 miles):
When you leave Ipswich Train Station main entrance, cross the road and walk straight over the bridge (you'll be able to see Ipswich Town FC's ground in front of you). Continue straight until you reach a large cross road with traffic lights on every side. Cross the road to the side where Curve Bar is and keep going straight.  Stay on Princess Street until you get to Barclays Bank building. Stay to the left of Barclays Bank with Waitrose on your left. When you get to the top and reach Lloyds Bank turn left and then directly right to go under the big archway. Make your way up the hill which is approximately a 3 minute walk towards Mecca Bingo and we are located on the right hand side.
Our Solicitors in Ipswich
When you come to visit us at our Ipswich office our expert solicitors can offer you legal advice on a full range of legal services for individuals and businesses.
Kerseys Business Solicitors deal with Commercial Property, Business Services, Employment Law, Legal Counsel, Legal Audit and Review, IP and IT, Business Disputes, Mediation for Business, Landlord Service and Business Wealth Management.
Kerseys Solicitors for individuals provide services for Family Relationships and Divorce, Child Care and Social Services, Wills and Trusts, Conveyancing, Employment Law Services, Disputes Litigation and Mediation Services and also Wealth Management.
This list is not exhaustive so please call us on 01473 213311 for further information.
Meet the Ipswich Team
Meet more of the Kerseys team here.