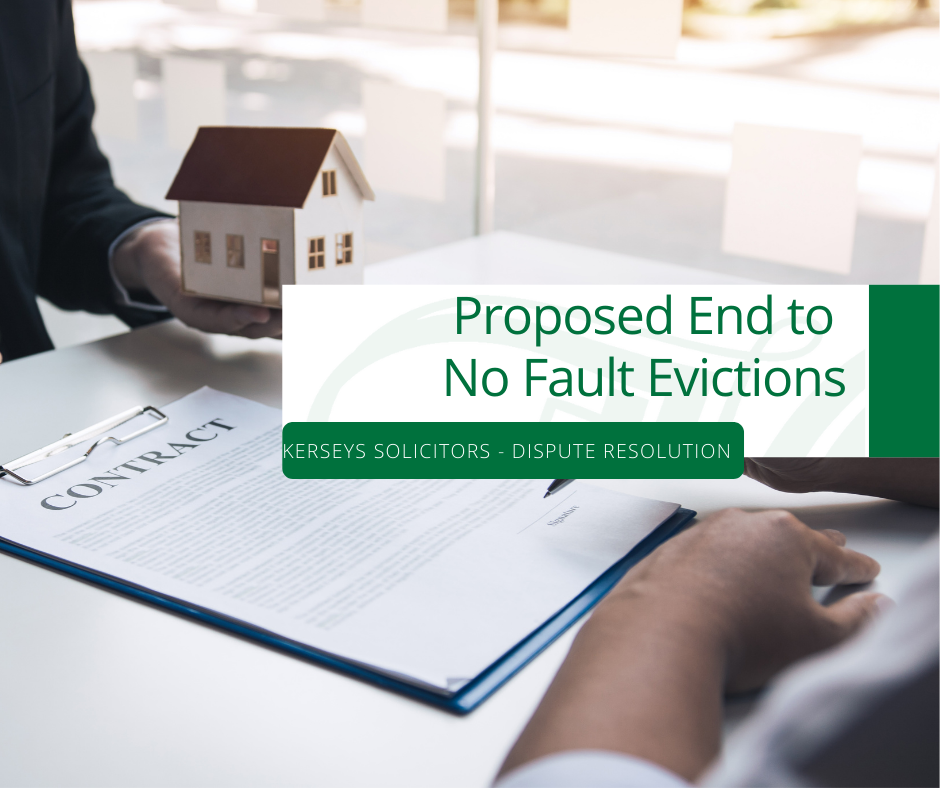 Private Residential Rental Changes
The end of residential "no fault" evictions – and other proposals
Last week the Government published its white paper providing further details of the legislation it proposes to bring in to change the private residential rental sector.
The white paper's stated aims are to provide better quality housing for tenants and also to provide them with greater security of tenure. Key changes proposed are as follows.
Increased security for tenants
The new law will restrict a landlord's ability to evict tenants and will also allow tenants more ability to move out of a property without penalty.
The most significant change proposed and one that has been widely trailed by the Government already is abolishing of Section 21 or "no fault" evictions. Currently, at the end of a fixed term of a tenancy a landlord can give two months' notice with no reason and once the notice has expired they can apply to the court for a Repossession Order.
This change will be brought in in two phases:
1.an initial date after which all new tenancies will be covered by the new rules; and,
a second date after which all existing tenancies will be covered by the new rules.
Of course, if possession for "no reason" is to be abolished all repossessions will then need to be based on a reason.  The white paper says that these will be "comprehensive, fair and efficient".
New Grounds will include landlords selling their property and landlords wishing to move into their property. These will not be able to be used within the first six months of a tenancy.  There will also be a new ground for rent arrears which will be that tenant has been in at least two months' rent arrears three times within the previous three years.
It appears that the existing "Section 8" grounds will also continue which include rent arrears and antisocial behaviour.  The mandatory ground of two months' arrears will not change but the notice period will increase to four weeks.
Notice periods will be two months where the circumstances are not within the tenant's control but less when they are.
To allow tenants to move on without penalty all tenancies will be periodic tenancies so abolishing any fixed term with tenants having to give 2 months' notice before leaving a property.
Decent Homes Standard
The Government will introduce a legally binding "Decent Homes Standard" which will be enforced by the Local Authority with the aim to ensure that all properties are kept to an acceptable minimum condition.
Resolving disputes between tenants and landlords
A new Ombudsman for all private landlords will be set up. The Ombudsman scheme is designed to provide a single streamlined service for tenants and landlords. "The new Ombudsman will have powers to compel landlords to issue an apology, provide information, take immediate action and/or pay compensation up to £25,000".
Rent increases will be limited to once per year, the use of rent review clauses will end and tenants will have the ability to apply to a tribunal if there are unjustified rent increases.
Court process
The white paper optimistically says that measures will be taken to "increase the efficiency and timings of the court possession action process".
Property portal
Everything now seems to have a "portal" and private renting will be no exception. Landlords will be legally required to register their property on the portal which will, apparently, assist with demonstrating their compliance with legal requirements. The local authority will be able to take enforcement action against private landlords who do not join. It appears that tenants and prospective tenants will have access to information on the portal.
Landlords will be required to provide a written tenancy agreement.
Restriction on a refusing tenant
It will become illegal for landlords to have bans on renting to families with children or those who are in receipt of benefits.
Tenants will have the "right to request" a pet in the property which the landlord must consider and cannot unreasonably refuse.
The government will "monitor the development" of ways tenants can "passport" deposits from one tenancy to another to avoid their having to raise a second lump sum.
Kate Barnes explains:-
In my experience a Section 21 Notice is nearly always used by a landlord when there is some underlying reason for an eviction and it is used for convenience and certainty. If Section 21 Notices are abolished then possessions will have to proceed based on those underlying reasons instead.
This will increase the work needed if a court action is needed and evidence will have to be submitted to the court to justify the reason which could be complicated. If you are relying on the ground that you want to sell a property I assume there will be guidance as to what evidence you have to produce for that intention to sell.
Currently the most frustrating factor for landlords is often delays at the court and hopefully the Government will manage to set up efficient and streamlined processes for any claims as if the landlord has to prove the reason for an eviction this will involve additional court time and the possibility of contested hearings.
Whilst dispute resolution facilities such as the Ombudsman may prove helpful in avoiding getting into the position where court action is needed my recent experience with Ombudsmen of various different types is that delays can be significant and I wonder if these are more likely to extend problems rather than resolve them.
Overall, I am sure that landlords will, as always, be keen to retain good tenants and will continue to do so. However, even though we do not have a timescale for any of these changes yet landlords should address issues with tenants when they arise in order to prevent the situation escalating and of course, until further notice, the Section 21 procedure remains available to landlords.
If you are a landlord and need advice or assistance on dealing with tenants then please do contact Kate Barnes, Partner and Head of our Dispute Resolution team at Kerseys Solicitors in Ipswich on 01473 213311 or Kerseys Solicitors in Colchester on 01206 584584 or alternatively email our Dispute Resolution team at [email protected]