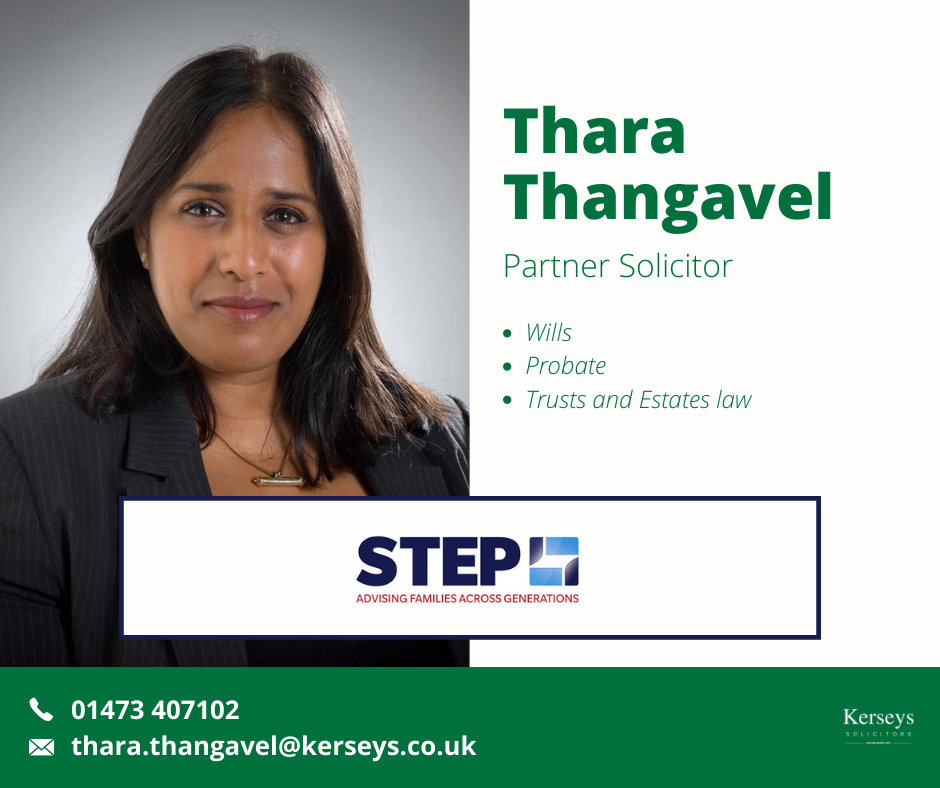 Why Being a Member of STEP Benefits Clients
Why Being a Member of STEP Benefits Clients
---
Meet Thara Thangavel, Partner & Solicitor in the Private Client Team at Kerseys.
Thara explains why being a member of STEP benefits not only herself but also her clients.
---
To gain the STEP qualification meant that for over two years I was required to study for and pass advanced level exams in respect of Wills, Probate, Trusts and Estates.
After working as a Private Client solicitor for many years, Kerseys allowed me to challenge myself further and develop my skills by giving me this opportunity and I greatly relished the whole experience.
STEP provides an insight and better understanding on the more intricate areas of:
This area of law is never a stagnant area of law and throughout the years it has constantly changed.
Being a Member of STEP means that I have access to a wide variety of sources and that allows me to keep up to date with the changes and trends in the relevant area of law. This helps me to continue providing my clients with a high level of service.
How Kerseys Can Help
If you have any queries or concerns in relation to a Will or a Lasting Power of Attorney or a Probate, Estate or Trust matter, please do not hesitate to contact me at [email protected]
Call us by telephone on Ipswich 01473 213311 or Colchester 01206 584584 and I or a member of our team will be happy to speak to you. Alternatively, you can visit our website and click "Call Me Back".