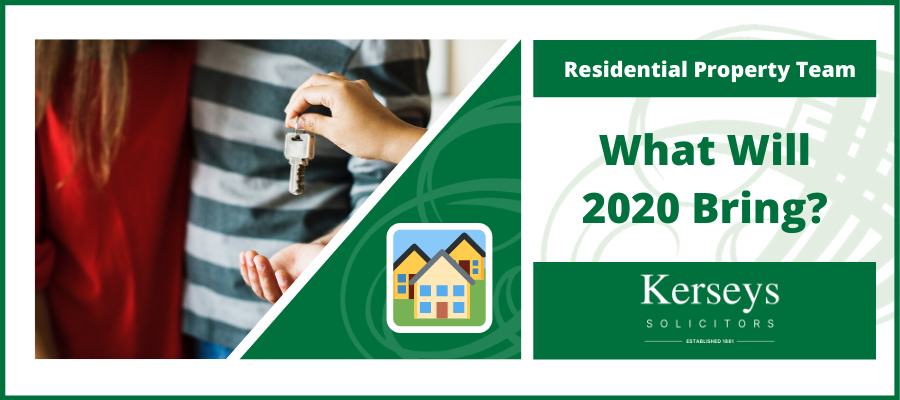 What Will 2020 Bring?
Jane Riley, Head of Residential Property at Kerseys Solicitors considers what will 2020 bring?
According to the Nationwide Building Society, house prices were on average 1.4% higher in December 2019 than in December 2018, the first time that they had been above 1% all year.
The average house price in the UK is now £215,282.00
Another high street lender, Halifax has forecast house price growth of between 1% and 3% this year with increasing numbers of first time buyers entering the market.
The market is still challenging for first time buyers, it has been estimated that someone earning the average wage and saving 15% of their take home pay each month would need more than 5 years to save a 20% deposit.
Capital Gains Tax
From 6 April 2020, there are changes to capital gains tax (CGT) which is paid on any profits made through the sale of a property that isn't your main residence.
CGT on a property is currently paid through your self-assessment tax return so does not normally need to be paid until the following tax year, but from April 2020, you will need to pay the full amount owed within 30 days of the completion of the sale.
Failure to pay within the 30-day limit will lead to interest and penalties.
Private Residence Relief
There will also be changes to the private residence relief from April 2020.
Currently where a property has been your main residence for the last 18 months, even if you had been letting it out and were not currently living there, you are exempt from paying CGT but from April 2020 this period will be reduced to nine months.
There are certain costs that can be deducted from your CGT calculation including the costs of purchase i.e
solicitors fees
stamp duty
improvement costs (decoration does not count)
Do however, take expert tax advice particularly when you are selling a property that you do not live in or is being transferred as a gift or for less than the market value.
Conveyancing Page
---
How Kerseys Can Help
For further advice, please contact Jane Riley on 01473 407122 or email [email protected]