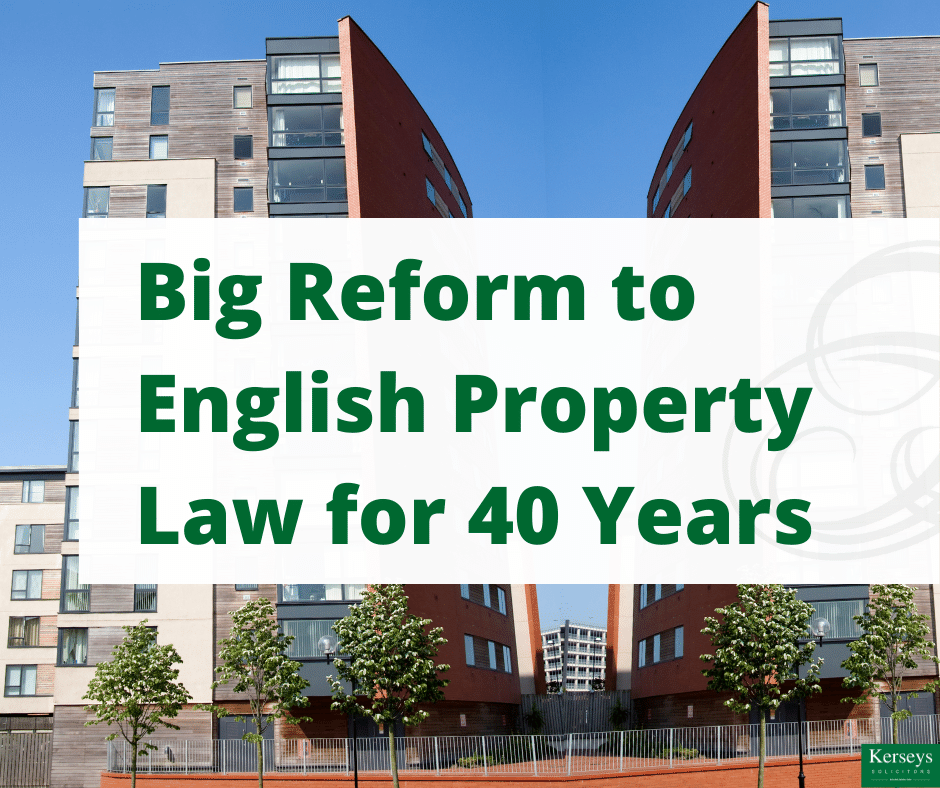 Big Reform to English Property Law for 40 Years
Big Reform to English Property Law for 40 Years
---
Jane Riley, Partner at Kerseys Solicitors reviews one of the biggest reforms to English Property Law for 40 years.
On 7 January 2021, Housing Secretary Robert Jenrick announced planned reforms to make the process of extending a lease cheaper and simpler.
Leasehold
The announcement means that leaseholders will now be able to extend their lease to 990 years and will no longer have to pay ground rent to the freeholder.
When a homebuyer purchases a leasehold property, they do not possess it outright. They gain the right to occupy it for a set number of years. This can be extended by applying to the freeholder and negotiating a fee. The issue is that the process is complex and expensive. Once it dwindles to less than around 80 years it can really affect the resale value of a property – the shorter the lease the more it will impact the price.
How much you pay depends on a hugely elaborate formula linking the value of the property to the length of the remaining lease and the ground rent. Part of this fee is called the marriage value representing the increase in the value of the property once the lease has been extended.
Under the government plans the marriage value will be abolished following recommendations from the Law Commission.
Leasehold vs Commonhold
Leasehold property sales could soon be scrapped in favour of commonhold after the government announced that it is to establish a Commonhold Council, a partnership of leasehold groups, industry and government.
The commonhold model is widely used around the world, allowing homeowners to own their property on a freehold basis, giving them greater control over the costs of home ownership. Blocks are jointly owned and managed, meaning when someone buys a flat or a house, it is truly theirs and any decisions about its future are theirs too.
Instead of a freeholder owning the land, flats would be commonhold which gives the owners of homes in shared buildings more control over the costs of maintenance.
Conveyancing
How Kerseys Can Help
For advice on an existing/new Lease, please contact us at [email protected] or telephone us on 01473 213311 or 01206 584584.