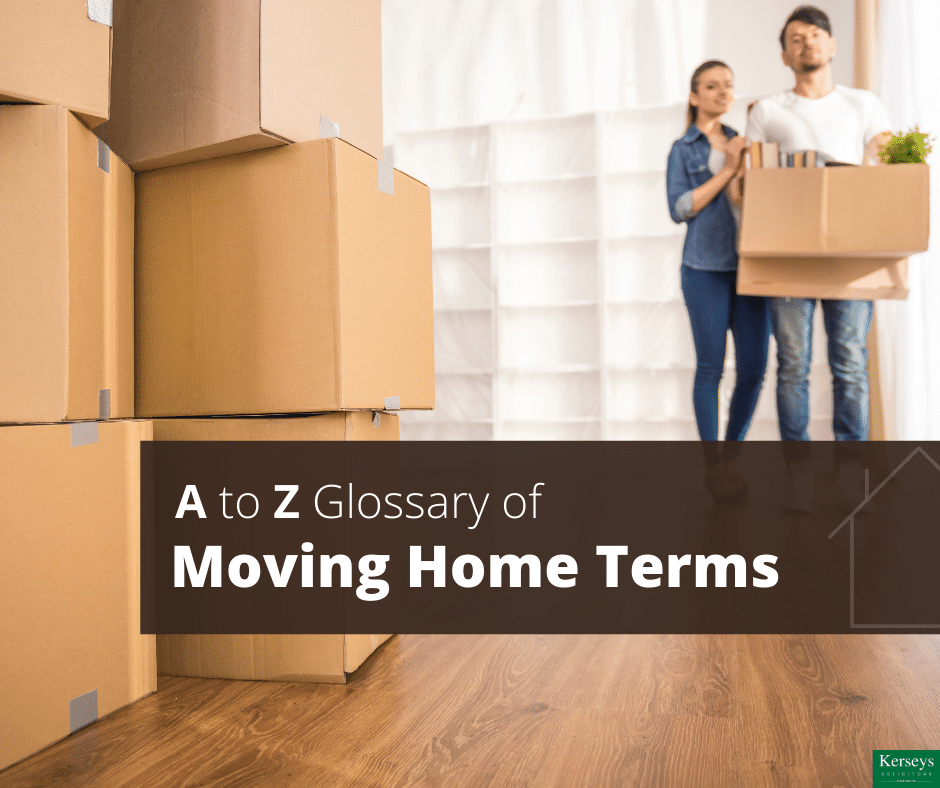 A to Z Glossary of Moving Home Terms
A to Z Glossary of Moving Home Terms
Read our detailed A-Z guide of moving home terms designed to help you if you are a moving novice or even a seasoned mover.

C
Completion Date: The day money is sent from the buyers' solicitor to the sellers' solicitor or vice versa. All transfer documents are dated. Most importantly you are able to collect the keys to your new home.
Conveyancing: Conveyancing is a term used to define a wide range of legal practices in relation to property. This could include selling, buying, remortgaging, transfer of a share in a property or leasing a property.
Covenants: These are legally binding obligations on the owner of the property.
D
Disbursements: Fees paid by the Solicitor behalf of the client. These are set fees for searches required to perform the appropriate checks with the Local Authority and Land Registry etc.
E
Exchange of Contracts: This is when your transaction becomes binding. Commonly, a completion date will be fixed and included as part of the exchange of contracts. The only time a completion date will not be fixed will be if you are buying a new build property which is not yet finished. In this scenario you will exchange contracts on notice.
Exchange of Contracts – Deposit: Mortgage Deposit – This is the difference between your mortgage advance and the purchase price. Legal Deposit – The legal deposit is the money used on exchange of contracts. This is typically 10% of the purchase price. Although the Seller may agree to accept a reduced deposit. The solicitor needs to have the deposit as cleared funds before they can consider exchanging contracts.
F
Freehold Title: Includes the land underneath the property that is registered as Freehold land.
G
Ground Rent: Is rent payable by you when you are leasing a property to the owner of the Lease.
I
Indemnity Insurance: This is a one-off payment which will often last forever that protects the owner of the property against a specific problem with the property that could result in Local Authority action or legal issues.
L
Land Transaction Return: The Form submitted to Her Majesty's Revenue and Customs (HMRC) to inform them of a purchase or transfer. This will also include the amount of Stamp Duty you will need to pay.
Leasehold Title: Include the area which is described with the Lease. A lease is a contract by which one party conveys land, property, services, etc to another party for a specified time, usually in return for a periodic payment.
Legal Undertaking: A legal Undertaking is a written promise offered as security for the performance of particular act required in legal action
M
Mortgage Advance: This amount that you have agreed to borrow from your Mortgage Lender. Please note that this amount will sometimes include a fee payable to the lender and will be deducted from the Mortgage Advance. The Mortgage Advance will be released to your Solicitors in preparation for the completion of your purchase.
P
Positive Covenant: A legally binding obligation to make you do something (i.e maintain a fence)
R
Registration: An application is lodge with Land Registry to register your property and any charges against the property to officially lodge the title and ownership of your property with the Land Registry.
Restrictive Covenant: Legally binding obligation to stop you from doing something (i.e stop you from building an extension)
Retention: An amount of money held back after completion until works have been completion. i.e you have purchased a new build property and the roads are not yet completed, we would retain and agreed amount of money and only release this money when the road agreement (known as a Section 108 Agreement) has been supplied.
S
Search Fees: Local Authority Search, Water and Drainage Search, Planning Search, Environmental Search. The Search fees are determined by the Local Authority and Land Registry.
Service Charge: If your communal areas have been developed, the management company or owner of the Lease may produce an invoice for the works in developing and maintaining the communal areas which is divided by each dwelling in the building to paid by you and the other dwelling holders.
Stamp Duty Land Tax (SDLT): A tax payable on the amount paid for a property or Lease.
Survey: A Surveyor will inspect and produce a Report on the Structure of the Property. As this is a structural matter we do not issue a Survey. If you would like a survey then you will need to instruct a surveyor.
T
Title Deeds: Legal documents that prove ownership of a property. Most properties are registered with the Land Registry and a copy of your title can be downloaded from their website for a minimal fee. Where a property has not been registered with the Land Registry often your bank or building society will hold your original Title Deeds.
Back to Conveyancing
---
Kerseys Residential Conveyancing Team