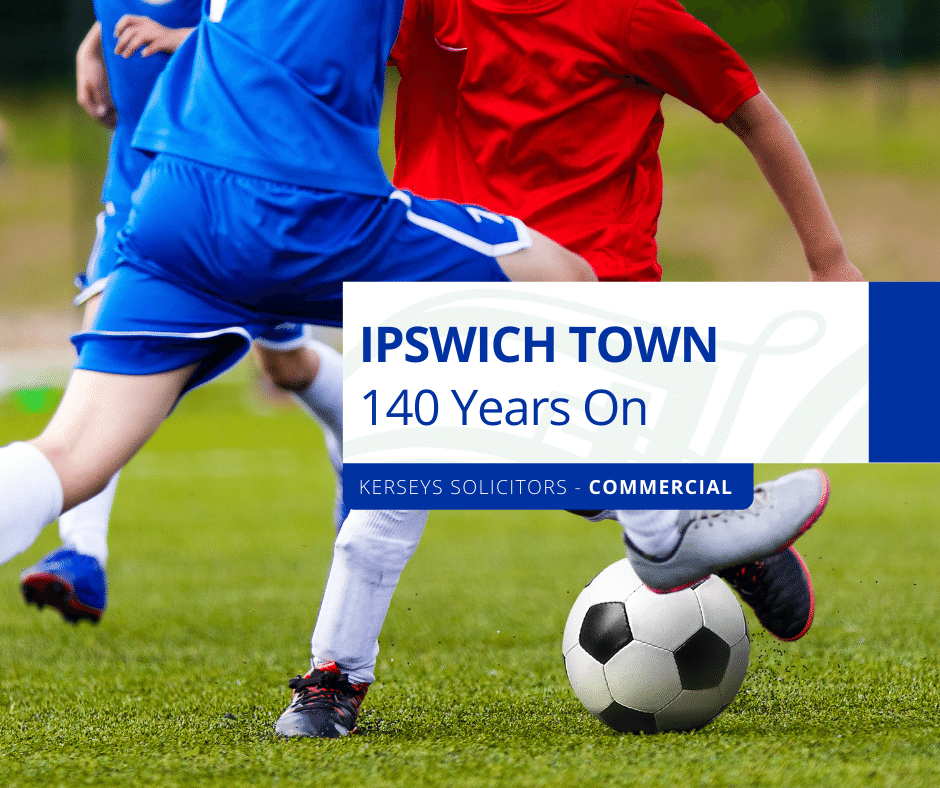 Ipswich Town 140 Years On
Ipswich Town 140 Years On
It was 1881.
Ipswich Town FC was just three years old, and it became the year they registered what is still their biggest ever win. They beat East Stamford 15-0 and one player, John Knights, scored a triple hat-trick. Nine goals. Perhaps not surprisingly, this is still a club record. Not bad at all.
Alas history doesn't record if Kerseys, which was founded in the same year, had anything to do with this significant double achievement. To be honest our guess is it did not. But, well, it was at least the same year.

The Town is moving on
There are new owners and with them fresh hopes.
And, with the takeover, among Town fans, (or some of them) we seem to see also to a burgeoning interest in the minutia and complexities of acquisitions and buyouts.
With things such as:
debts
liabilities
property questions
employee and pension issues
intellectual property.
They all have to be taken into account, when buying a company or business. And doubtless, they were. Town fans will certainly hope they were. The success of the club will depend on getting these kinds of things right. Though a decent team won't do any harm either.
New players coming in mean new contracts to be prepared and negotiated.
Others have been leaving of course.
The manager and backroom staff have been changing too.
Plenty to keep a lawyer or two occupied there, and who knows what other changes may be happening behind the scenes. Let's hope they get it right. Doubtless, the lawyers won't get that promotion on their own, but they might just help along the way.
Senior Solicitor, Adrian Chaffey is still a Gooner really, but he specialises in supporting businesses and their owners at Kerseys.
He says:
"It's not just football clubs that need to be run properly or need to look to lawyers for help. It's really important for all businesses no matter how small or large and it's important for owners and those looking to become owners too. You can contact me at [email protected] or telephone Ipswich 01473 213311 or Colchester 01206 584584 and I'll be happy to arrange a free initial telephone/virtual meeting with you."
Our Services for Businesses