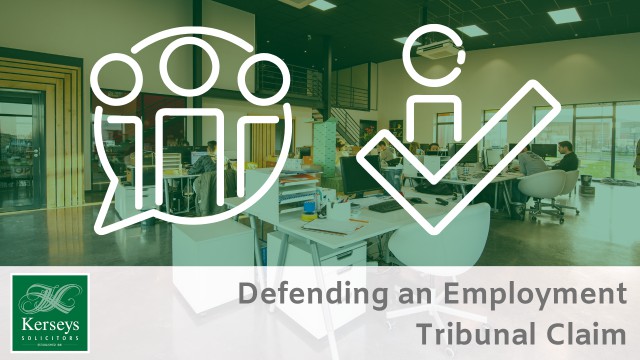 Guide to Defending an Employment Tribunal Claim
Kerseys Guide to Defending an Employment Tribunal Claim
This video from Kerseys Solicitors in Ipswich, explains the process of an Employment Tribunal claim.
It takes you through each stage, from receiving the claim (ET1 form) from the Claimant, through to the Employment Tribunal hearing itself.
This video has an accompanying written guide, which goes in to greater detail on the processes and procedures involved in defending a claim; and a sample witness statement.
Transcript of Kerseys Guide to Defending an Employment Tribunal Claim Video
Here at Kerseys we can assist your business with all aspects of employment law.
In this video we'll look at how Kerseys can help you respond to an employment tribunal claim. We hope you will never need to defend an employment tribunal claim but if you do our experienced team is here to help you.
Call us as soon as you receive a claim so that we can work with you right from the start of the process. We can go through all the paperwork with you and advise you on the potential risks and exposure facing your business. We will then discuss some of your options around how you should proceed. We will give you an idea of the possible costs involved in defending a claim and then agree a way forward with you.
The first task in defending a claim is to get your formal response sent to the employment tribunal which Kerseys can manage on your behalf. This must be submitted within 28 days from the date that the tribunal sent out the claim. In simpler cases the Employment Tribunal will respond with a letter explaining how they will handle your case. More complex cases may require a short preliminary hearing in preparation for the main tribunal. Kerseys will be able to assist you to prepare for this procedure. We will prepare all the documents that are required for the final hearing. There are strict legal guidelines which must be followed when making relevant documentation available to both sides in the hearing. At Kerseys we pride ourselves on taking straightforward and thorough approach, making the process as painless as possible for our clients.
Kerseys will also help you to assemble and prepare witness statements. We will use our experience to identify the key points that will support your case at the hearing.
The final key stage of the process is the tribunal hearing itself. The judge will listen to both sides of the case presented and will deliver a verdict either the same day or in writing at a later date. Once you receive the judgment that is likely to be the end of the matter although in some limited circumstances parties can appeal against a decision.
At Kerseys we provide a caring and professional service for you and your business.
If you'd like to discuss any aspect of employment law with us call 01473 213311.
Employment Law for Businesses