Kerseys Solicitors are a proud sponsor of art and artists in our home county of Suffolk. We have hosted several successful exhibitions at our offices in Ipswich. On this page you will find links to the exhibitions and details of how you can purchase the artwork that is for sale.
We hope you are delighted and intrigued by the works created by the very talented artists in Suffolk. If you are an artist, you may find this article on The Art of the Sale useful. Click here.
Kerseys are proud to support two photographers who have exhibited in the Kerseys office. Their work is on the theme of 'Suffolk' in a bid to encourage tourism in the area. Cherry Beesley and Pavel Kricka are displaying images showcasing landmarks in the county.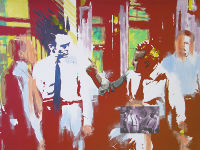 The Art of the Law exhibition was launched on February 19 January, and featured work from The Freudian Sheep gallery, including:
Portraits of people associated with law by Richard Day & Kate Williamson.
Paintings & drawings taken from famous legal-themed movies by James Nunn, Adam Riches, Borin Van Loon and Eleanor May.
Abstracts/semi abstract conceptual responses to the theme by Michelle Bowden, Steve Joyce, David Colbran and Fabian Di Mascio.
Photographic investigations by creative photographers Tom Owens & Pavel Kricka.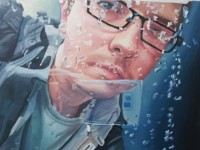 We are proud to display a selection of artwork from artists in Suffolk. These works have been exhibited in our Ipswich offices. If you are interested in the artist or their work, please do contact them via us. Please, also, do visit our website regularly to see how Kerseys are supporting the arts as we often sponsor exhibitions and other notable events in Ipswich.
Click to view the gallery and see work by Eleanor May, Laurel Berry, Jade Blastford, Jason Nunn, Kate Williamson, Loisjoy Thurston, Val Jones, Fabiana di Mascio, Anna Stollery, Paul Fisk and Anthony Wooding.
Kerseys Solicitors are proud to suggest Pop My Mind to buy original and cutting edge artwork, created by real practising artists.