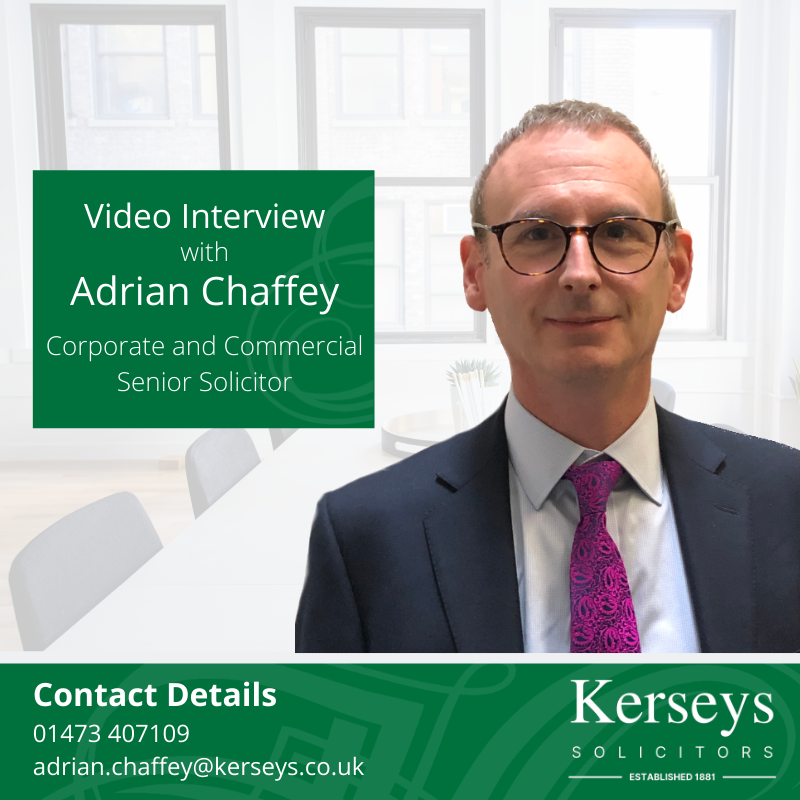 Adrian Chaffey – Commercial & Corporate Services Interview
Business Services Interview with Adrian Chaffey
Video Transcript
I'm Adrian Chaffey and I'm part of the Corporate team here at Kerseys.
Our team advises businesses and business owners. Sometimes this will be about a commercial arrangement that a business is getting into, so important contracts or maybe their general terms of business, but it may alternatively be about things to do with the ownership of the business.
So perhaps about buying or selling a business or a company, or about the relationships between the people who own the business, an agreement between the partners in a business, or between the shareholders in a company.
Our role as your Lawyer is to help you through whatever it is you are hoping to do, to advise, to identify issues and sometimes to challenge, and ultimately to ensure everything is properly documented and legally binding.
Our aim is always to ensure that you can get the best deal you can.
If you would like to discuss your business needs with me in more detail, please contact me and I will be more than happy to provide you with a free initial telephone converation to support your business.
---