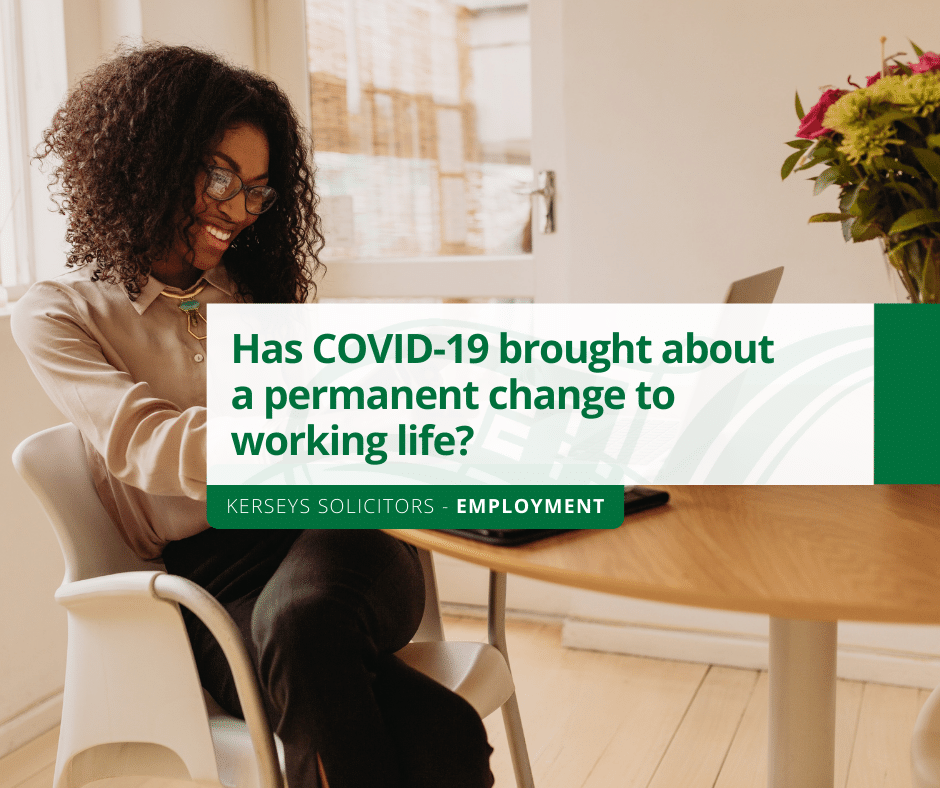 Permanent Change to Working Life After COVID19?
Has Covid-19 brought about a permanent change to working life?
In the wake of the first year of the pandemic, although with the introduction of a mass vaccination rollout, is business going to return to the pre-pandemic norm?
It would appear not judging by the government's flexible working task force currently drafting guidance before the expected lifting of the remaining lockdown restrictions on 21 June 2021.
The new guidance is said to include flexible working as the way forward.
Under the new guidance, it proposes that employees will now be able to continue to either work from home or another venue of their choosing, such as internet cafes as opposed to the traditional practices of everyone being in the office Monday to Friday 9am-5pm. Employees will still attend the office but on occasion as to the norm under the proposals as they currently are.
Peter Cheese, chief executive of the Chartered Institute of Personnel and Development (CIPD) and the co-chair of the task force is reported to have said that the pandemic had demonstrated that people could work productively away from the traditional workplace, with 71% of firm reporting that home working had either boosted or made no difference to productivity.
This surely begs the question, is it better for employees and businesses alike to adopt homeworking on a permanent basis going forward?
Is flexible working on the horizon as a result?
Whilst working from home has brought some challenges for businesses to consider, such as data protection and cybersecurity amongst others. However, if your systems and processes are in place, are robust, and are followed then your business will reduce its carbon footprint thus becoming more eco-friendly.
We all saw that the reduced number of cars on the road during the lockdowns had a positive impact on the environment both land and waterways. Being green may also be another consideration for flexible working on a permanent basis.
The task force which met last month is considering whether employment contracts should be amended to enable more ad hoc, hybrid working in different locations. Employers will still need to ensure that employees have a safe place to work and have the support system in place for health and well-being, but if the pandemic has proved anything, it has proved that the location of employees in the office is not always necessary.
"There have been mixed messages from the government," said Cheese, "If the cities have far fewer people, local businesses are going to have to adapt."
Businesses are making changes
Google is another company relaxing its approach to the return to work in permitting some employees to permanently work from home. The company will now allow employees to work from other locations for a longer period each year. The company, which owns extensive Silicon Valley real estate, had previously taken a more strict approach to the return to work as the COVID pandemic has forced companies to close offices and have employees telecommute.
Banks could also potentially start sharing one location with a different bank for every day of the week in small towns, as reported here by Money Control. The large banks in the UK had all exited the Essex market town of Rochford (as of 2017). But now these institutions have come back and are looking to share the office space.
How Kerseys Can Help
Is your business considering a permanent change?
Are you prepared for the changes from 21 June 2021?
Do you need to support in changing your contracts of employment, ensuring your HR legal handbooks are up to date?
Employment Solicitor Annalie King will lead your review, leaving you to run your business.
Employment Law
We are interested in how your business is planning its way forward, we appreciate every business has very different requirements to service its clients, our advice will be tailored to support your specific business requirements and become an extension of your team.
For a free initial conversation contact Annalie at [email protected] or telephone Ipswich 01473 213311 or Colchester 01206 58454.
Alternatively, click "Call Me Back" where a member of our team will be happy to contact you.
Related Blog Post
Source: Government taskforce urges permanent job flexibility for all workers | Working from home | The Guardian