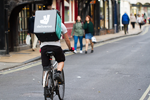 The 'Gig Economy' Under Fire for Treatment of Workers
The 'Gig Economy' Under Fire for Treatment of Workers
In recent months, companies in the 'gig economy' have come under fire over their treatment of their workers.
The 'gig economy' is "a labour market characterised by the prevalence of short-term contracts or freelance work, as opposed to permanent jobs".
http://www.bbc.co.uk/news/business-38930048
Last year an employment tribunal held that Uber's drivers were workers rather than self-employed.
The court went on to openly criticise Uber for trying to cover up the true situation by "resorting in its documentation to fictions, twisted language and even brand new terminology…"  
Workers' rights
Uber isn't the only one at it. CitySprint, Excel, Addison Lee, eCourier and Deliveroo are all facing employment tribunal claims from couriers/riders who claim they are workers.
Some might think that the way to deal with this growing issue, and the hundreds of potential claims waiting in the wings, is to make the working relationship clearer and give the couriers/riders better rights.
Deliveroo
Deliveroo, however, had different ideas.  It decided to provide its employees with 'vocabulary guidelines' to help them get the terminology 'right' when referring to Deliveroo's delivery riders and to reinforce the impression that its riders are self-employed.  For example, Deliveroo riders wear "branded clothing" not "uniforms", receive "invoices" as opposed to "payslips" and face "termination" rather than "the sack".
Riders made responsible for any costs
In a further controversial step, Deliveroo also decided to include a clause in its supplier agreements with its riders saying that the rider would be responsible for any costs incurred by Deliveroo if they bring a case against Deliveroo.
This clause, designed to block the riders from trying to enforce their rights through the employment tribunal, received wide-spread criticism.
But amid growing pressure and questions as to the enforceability of the clause, Deliveroo has now removed it from its supplier agreements. This leaves the way open for riders to bring claims regarding their employment status against Deliveroo.