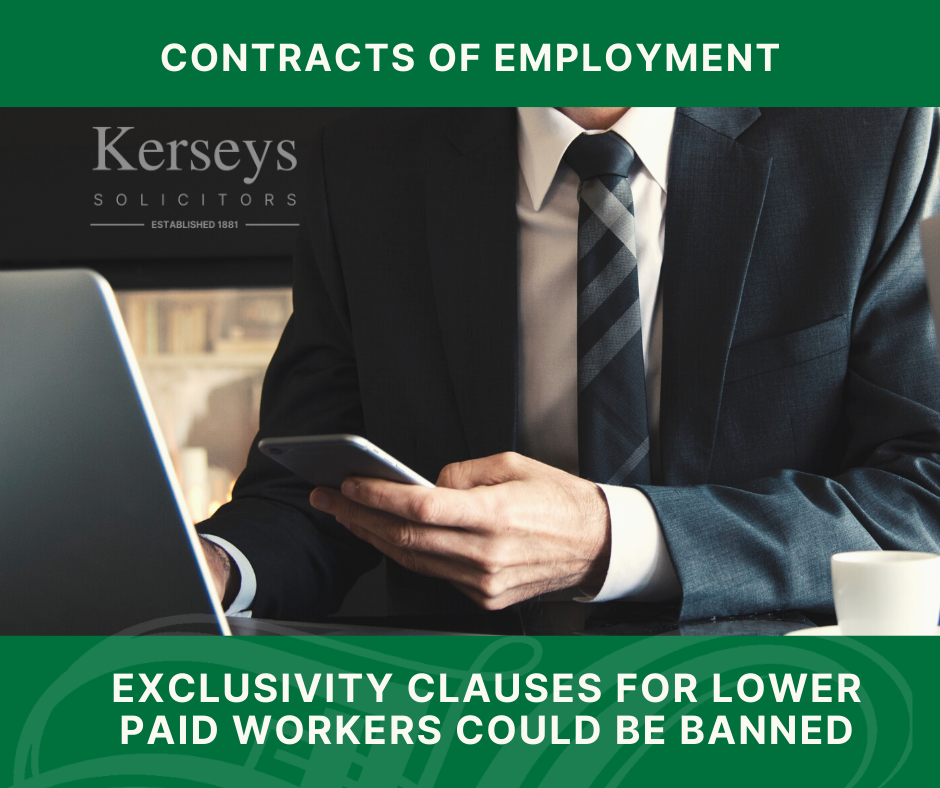 Exclusivity Clauses for Lower Paid Workers
Exclusivity clauses in employment contracts restrict workers from taking on additional work with other employers.  Since 2015 exclusivity clauses have been held to be unenforceable for those who work under zero hours contracts.
Following a consultation the government will be reviewing legislation in parliament later this year to potentially ban exclusivity clauses being used in contracts of employment for lower paid workers. A lower paid worker is a worker whose guaranteed earnings are below £123.00 per week.
On 4 December 2020, the Government launched a consultation on measures to extend the ban on exclusivity clauses in contracts of employment to maximise opportunities for individuals to find additional work and apply their skills to drive the economic recovery.
What does the term "Exclusivity clauses" mean:   A worker is restricted from doing any work otherwise than under the worker's contract.
Ban on exclusivity clauses: The 'ban' operates by making exclusivity clauses in employment contracts unenforceable.
Lower Earnings Limit: The Lower Earnings Limit (LEL) is the level of earnings which every employee must reach in order to gain entitlement to contributory benefits, such as State Pension. To gain benefit entitlement a person must, for each tax year, earn or be treated as having earned the LEL multiplied by 52.
The aim is to allow those employees whose employers do not comply with the ban an opportunity to address this in an employment tribunal and to prevent them from being subject to a detriment or unfairly dismissed by reasons relating to the ban on exclusivity clauses.
If you have any questions or need employment law advice or HR support, please don't hesitate to contact us for a friendly chat about what your requirements are.
If you are in of need employment advice or HR support contact Kerseys Solicitors telephone Ipswich 01473 213311 or Colchester 01206 584584 or email [email protected], alternatively Kerseys are only a click away visit our website and click "Call Me Back" and a member of our employment team will be happy to contact you at a time that is convenient to you.