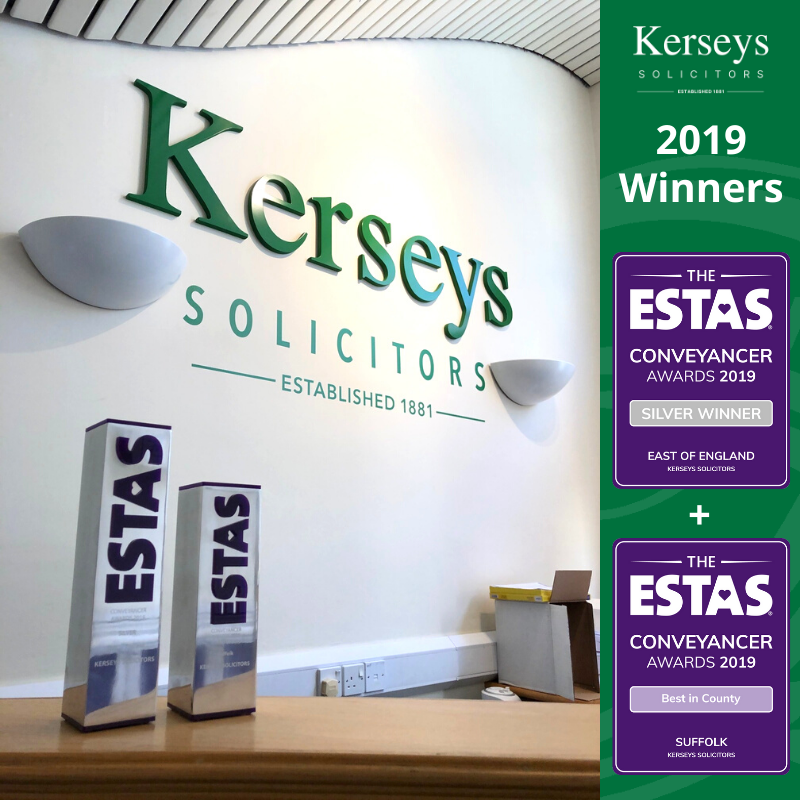 ESTAS Award Winners 2019

Kerseys Solicitors Win 2 Awards
Ipswich based residential conveyancing firm Kerseys Solicitors scooped up two awards at the prestigious ESTAS Customer Service Awards for 2019 by being awarded Winners of
Best Residential Conveyancers in Suffolk and receiving the
Silver in the East of England category.
The ETSAS Awards are the biggest awards in the UK conveyancing sector. The winners were announced by Phil Spencer, the TV property expert at a glamorous dinner and ceremony at the Grosvenor House on Park Lane in London. The event was attended by 400 of the UK's top property lawyers.
Phil Spencer Announces Winners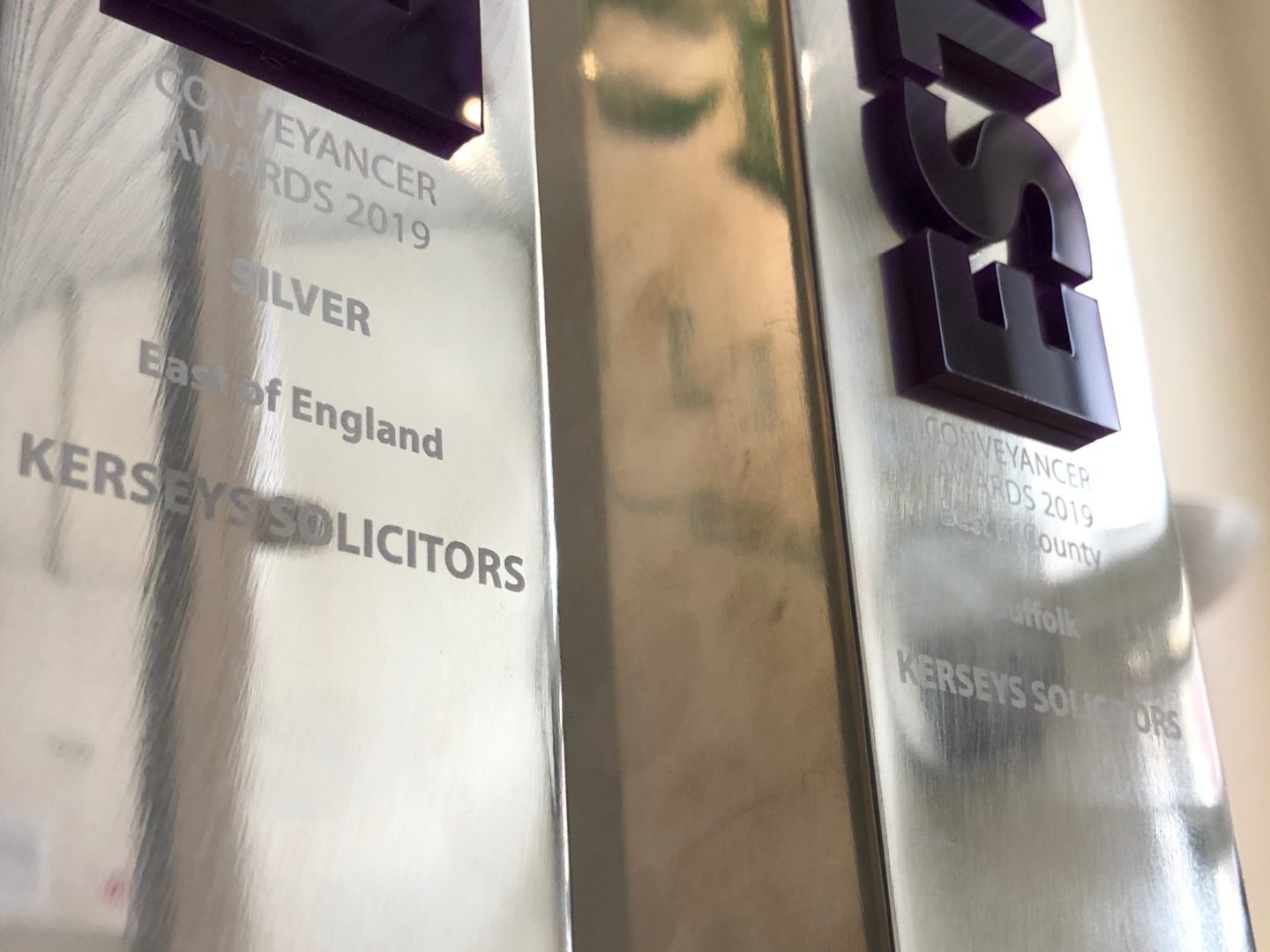 Spencer, who has hosted The ESTAS every year since their inception in 2003 addressed the audience "The ESTAS encapsulates what your typical conveyancer is trying to do which is provide a simple and transparent service for their clients. there is a real opportunity for high street firms right now to show the general public that service does really matter, traditional conveyancers do an incredible job for their clients in a process that is littered with potential pit falls and it's time to promote that fact."
About the ESTAS Awards
The ESTAS Awards determine the best conveyancing firms in the UK based purely on feedback from clients who are asked a series of questions via the ESTAS Customer Feedback Platform which is designed exclusively for property professionals. A record 45,000 customers have submitted an ESTAS survey so far this year, 9,000 of them for conveyancing firms.
Firms were recognised in 14 regions around the UK. There were also awards for best regional and national groups as well as the Grand Prix Award for the Best Single Office.
Simon Brown Founder of the ESTAS Group said "At ESTAS through our customer review platform we highlight exceptional service from conveyancers, agents and mortgage advisers. We help keep teams focused on that crucial service delivery and give them the chance to be recognised each year at the awards. We'll continue to fly the flag for all the really good property professionals involved in the house moving process, helping to build trust and raise service standards across the industry."
Jane Riley, Equity Partner and Head of Residential Property at Kerseys Solicitors said "We are absolutely thrilled to be recognised at this year's ESTAS. It means so much to us as we know it's our customers who have judged our performance. We are always looking to improve the service that we offer to our clients and encourage clients to always provide feedback to enable us to continue to enhance and maintain our first class service and impeccable client care that we as a firm, continue to commit to deliver in line with our core values."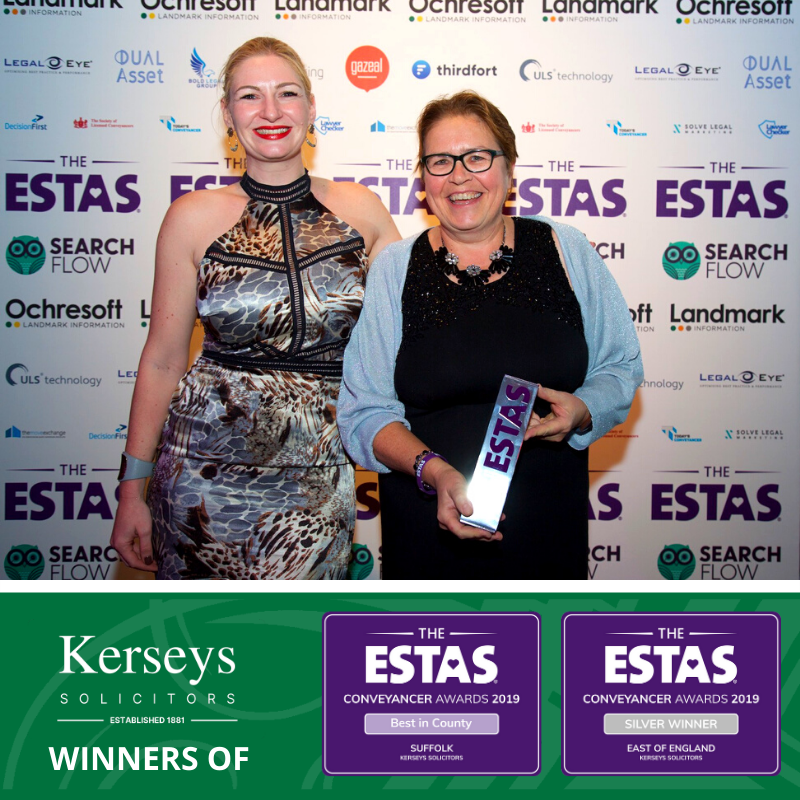 Meet the Conveyancing Team
Kerseys Conveyancers
Meet the Kerseys Residential Conveyancing Team based in Ipswich and find out a little more about each team member by viewing their profiles here.
Residential Conveyancing Team
Kerseys Conveyancing Services
View the services that we offer our clients as well as using our free online quote calculator.
Conveyancing Page