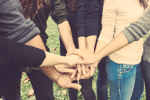 English Legal System and Faith rules
English Legal System and Faith rules
On 9th July 2015 a conference took place at The Gateway, West Suffolk College organised by SIFRE (Suffolk Inter Faith) on the subject of 'Human Rights, Religious Rights and British Values'.
About 70 people attended from many different backgrounds, faiths and expertises. Anthony Wooding led a workshop at the conference on Legal Systems and Religious Rights.
On Sunday 12th July Jon Wright the presenter of the Faith Programme on BBC Radio Suffolk interviewed him about it.