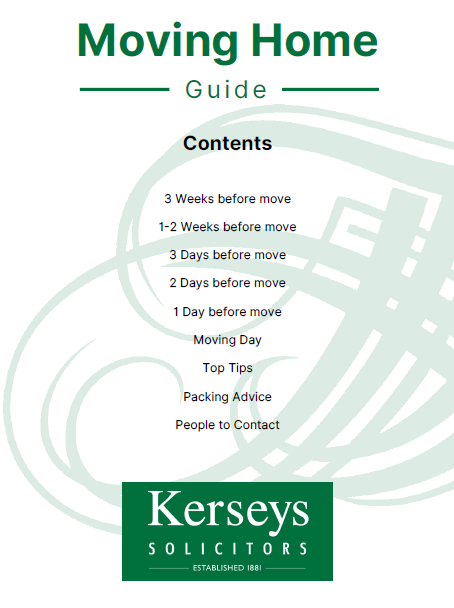 Moving House – Address Change Cheat Sheet
The All Important Address Change Cheat Sheet
Here at Kerseys we aim to reduce the stress associated with moving house. Moving home should be one of the most exciting steps in your life! But it can become shrouded with stress and anxiety (both emotionally and physically).
We know that changing address can be a hassle. Even remembering exactly which addresses you need to change can be a big factor in relation to rising stress levels.
From experience we know that address changes don't happen overnight. In fact they aren't always possible to complete in the first couple of days either! So don't put too much pressure on yourself.
When to Change Address?
Many of the first days in your new home are spent unpacking boxes, taking meter readings, painting/decorating and welcoming visitors who are keen to see your new abode.
But before you know it it's time to return to work and addresses still haven't been changed.
Changing addresses may seem minor in comparison to everything else going on. But it is important to remember that it will ensure that anything significant reaches you in a timely manner and that any insurance you have is still valid.
You should consider taking out the post office redirection service so that you do not miss any vital post.
There is a checklist available on our website for your convenience – even if it's making one or two calls a day when you get a break.
Download Cheat Sheet
Handy Tip

It is also worth checking if you can change addresses online before you spend time on hold trying to get through to customer service.
We would suggest that you make the most significant address changes first, for example:
your driving license
your car insurance documents
This is just in case there are any unforeseen circumstances.
You could make a priority list of which addresses to change. Addresses for things like magazine subscription and advantage cards being the lowest ranked and bank accounts and car documents being close to the top.
Manage the Stress of Moving
Changing addresses does need an investment of time but there can be consequences if it gets forgotten.
Once you have identified what might cause you stress during a house move, such as address changes, then you can come up with ways to combat the stress.
We have found that making lists/checklists are a good way of managing stress during a house move.
List of Address Changes to Make:
LOCAL AUTHORITIES
Council tax
Electoral Roll
UTILITIES/HOUSE HOLD
Water
Gas
Electric
Buildings and Contents Insurance
TV license – important as the wrong address will invalidate your license
Internet/Phone line
VEHICLE
Car Insurance
Car Breakdown Cover
Car Tax
V5 Logbook
MOT Garage (if you use the same one and rely on them for reminders)
Driving license
CARER
Employer
HM Revenue & Customs
National Insurance
PERSONAL
Bank and Savings Accounts
Credit Cards
Bonds/Investments
Mobile Phone Provider
Student Loan/University
Life/Health Insurance
Travel Insurance
Pet Insurance
Family and Friends
Last Will and Testament
Pensions
LEISURE
Gym
Sports clubs/classes
Any Subscriptions – (magazines, food boxes etc)
Store cards – (boots, co-op)
HEALTHCARE
Dentist
Doctor
Opticians
Vet
CHILDREN
School/College
After school clubs/sports clubs
Child benefit or child tax credits
May also be worth considering changing addresses for any services you receive, e.g. gardener, cleaner, carers, window cleaner.
Article Written by Amber Rainford
Go To Conveyancing