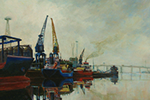 Kerseys Supporting the Arts
Kerseys Solicitors has long supported the arts in Ipswich – hosting, sponsoring and promoting a variety of events.
The firm has worked in collaboration with a number of organisations, including:
Kerseys has hosted exhibitions at their headquarters in in Lloyds Avenue, including the most recent Ipswich Interpretations – showcasing landmarks in the town.
Their involvement is spurred on by an interest in art, the town and some similarities with the field of law.
Parallel with art and law
Anthony Wooding, Kerseys managing partner and an exhibited artist, said: "Kerseys is a big supporter of the arts in Ipswich due to our interest in artwork and the community.
"We believe there are some parallels with art and law – as both involve often starting from a blank canvas and thinking creatively to get results.
"The art scene in Ipswich involves several galleries and online groups of artists, creating innovative work. The work is then promoted both locally and beyond."
Kerseys has helped to promote art events through various channels, as well as providing financial support.
The Freudian Sheep gallery continues showing artwork thanks to Kerseys
The Freudian Sheep, run by Ian Moss, has closed its gallery but is able to continue showing artwork thanks to longstanding support from Kerseys.

The firm will host its latest exhibition, Ipswich Interpretations, until summer 2017 at its headquarters in Lloyds Avenue while the couple look for a long term solution.
The theme, thought up by Anthony, will showcase artists' impressions of points of interest in Ipswich.
It has featured Jenny George's popular 'The Wine Rack' painting, which is a quirky take on the now well-known local landmark. The painting has sold for £2,500 – a record amount for the firm's exhibitions.
It will also be joined by George's illustration of the now defunct Odeon Cinema – portrayed it as if it were in a 1930s heyday.
Curator and artist Ian Moss said: "I've always found Kerseys' staff to be very accommodating, kind, interested and helpful. Kerseys are to be congratulated on all that they have done with and for visual art in and around Ipswich.
"For instance, by working with The Freudian Sheep Artists, they are supporting professional artists from throughout the region in their quest to survive and thrive."
The firm has supported The Freudian Sheep since its opening in December 2013. The firm has helped fund and publicise their exhibitions. It has included work by the artist-let collective DIG!, twice held at Kerseys' offices.
Kerseys has also twice hosted their 'Art in Business' exhibitions, which are designed to bring art from the area to the workplace.
Ian added: "The artists get their work seen by a wider range of people and thus stand more chance of making sales.
Pop My Mind – online exhibition encourages buyers
Kerseys was also among several organisations to sponsor the Pop My Mind (PMM) exhibition, which marked its first birthday.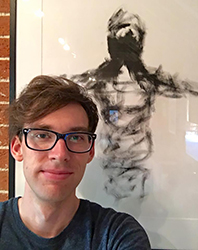 The event, from July 23 to 24, was based on work from the group's online platform.
The movement saw one artist upload their work, such as a drum beat, the first lines of a story, a minimalist sketch or short video sequence, to which other artists respond in whichever medium they wish – known as 'popping.'
Oliver Squirrell, a musician and photographer, set up the online platform for painters, film-makers, musicians, poets and creative artists.
He said: "Kersey's has supported Pop My Mind hugely by sponsoring and enabling events like our first birthday exhibition. Anthony Wooding has also personally supported PMM by giving advice. His enthusiasm and Kersey's willingness to support the arts is really an asset to the Suffolk art scene."
Works from PMM and their exhibitions feature on Kerseys' website. Anthony said: "If people are using our conveyancing services, in particular, we thought it would be a great time to buy a new work to decorate their new home."
Paul Fisk says 'Kerseys saved our bacon'
Kerseys has twice sponsored Festival of the Beats, a literary, art and music festival celebrating the Beat Generation.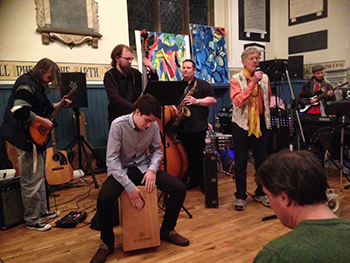 Organiser Paul Fisk said: "Kerseys saved our bacon when funding fell through – paying a third towards our fees.
"Kerseys also helped to promote the event and it was a great success. It's thanks to Kerseys that we had some big headliners and so many people got involved.
"Anthony also performed on stage. I think it's very honourable that a law firm like Kerseys is supporting an alternative arts festival."
Paul Fisk is also behind Subterranean Arts, in St Peter's Street, which aims to give lesser known artists the recognition they deserve. There is an ongoing exhibition of work by local and international artists as well an array of artist's portfolios, many who exclusively exhibit with the gallery.
Paul added: "Kerseys have also backed the gallery and Anthony is a regular visitor."
Ipswich Jazz Festival – Kerseys' support has been 'invaluable'
Kerseys has sponsored Ipswich Jazz Festival, with its range of artistes and workshops, for two years running. Organiser Neil Bateman said their support has been invaluable.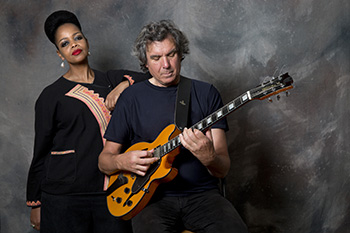 He said: "It's good to see a local business supporting local community activities. I applaud Kerseys for showing commitment to the arts locally.
"We are not a commercial venture, but a community activity, and Kerseys' support has been invaluable. They have helped to cover our costs and give the event more credibility.
"In return, I believe it has helped to raise their profile and further build their reputation."
'Private arts events' calendar
Kerseys has also set up a 'private arts events' calendar, so arts organisers can avoid clashing with each other and  co-ordinate more together.
Anthony said: "We are now much more sophisticated with our exhibitions. We attract a wider range of artists and a greater number of visitors as we are more established in the art world now."
The Ipswich Interpretations exhibition will run from December 8, 2016, until June 8, 2017. A private viewing will be held on Thursday, December 8. If you would like to attend, please contact Karen Williams on [email protected] or call 01473 213 311. Alternatively, visit www.kerseys-wm.co.uk For more information about the gallery, visit www.freudiansheep.co.uk or www.facebook.com/freudiansheepartists