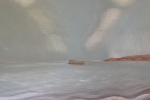 Kerseys Latest Art Exhibition
NEWS UPDATE: Bidding on Jenny's painting is now closed. Bidding on Anthony's painting, Arrival at Lesvos, has been extended until 1 July 2018.
___
Two Ipswich artists are set to give hundreds of pounds to charity from the sale of their paintings.
Anthony Wooding, who is also the managing partner of Kerseys Solicitors, and Jenny George, will donate money to Suffolk Lowland Search and Rescue (SULSAR) and Suffolk Refugee Support (SRS).
The artists will each put a painting up for sale through a bid (starting at £330) – giving 100 per cent of the proceeds to the local good causes.
Anthony's Arriving at Lesvos, which depicts the journey of refugees to the Greek island and was inspired by the work of documentary photographer Giles Duley, will support SRS.
And Jenny's, The Guardian, of which an ancient, gnarled oak tree is the topic, will aid SLSR.
Bids will be taken by the artists Jenny and Anthony at the opening view on February 15th.  A written record will be made in a bid book and a copy given to the bidder.  Bids can also be made by email to [email protected] and will be acknowledged and also recorded in the book,  up to closing date of 30th March at 5pm.  The winning bid will be announced on April 1st.
Anthony said: "Duley's work appeals to my sense of justice, which is why I entered the legal profession.
"Duley's images inspired this painting, which looks at the plight of people forced to flee their homes. I was really struck with them when I visited an exhibition of his work, put on by Suffolk Refugee Support, at University of Suffolk last May.
"It seemed fitting to then use my art to support refugees – not just to raise awareness but also to offer a monetary donation."
SULSAR is a voluntary organisation, which mainly searches for vulnerable missing persons (known as mispers). They require specialist equipment and rely on donations.
Suffolk Refugee Support gives practical support to refugees and asylum seekers in the region. The team have helped people to overcome past trauma and rebuild their lives as part of UK society.
Martin Simmonds, communications officer at the charity, said: "We're very grateful for this generous gesture.
"It seems fitting that Anthony's beautiful and moving image should raise vital funds to help vulnerable refugees in Suffolk, many of whom endured perilous journeys to reach a place of safety."
The paintings are part of a free exhibition at Kerseys' headquarters in Lloyds Avenue, which explores the stories behind the artwork.
Every Picture Tells a Story features 20 works from the artists, whose art has been snapped by buyers in the past.
Jenny, whose take on local landmark The Wine Rack proved a hit, was moved by the story of RAF airman Corrie McKeague, who went missing in September 2016.
She said: "It would be an honour to help people who are dedicated to finding vulnerable missing persons. The volunteers do amazing work and help at what must be a very difficult time."
There are free tickets available for the opening night on February 15, which can be booked on Eventbrite
The exhibition will run for six months – closing on Friday, July 13 – and will be open daily 9am to 5:15pm.