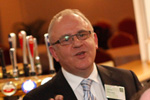 Kerseys Colchester Office
Kerseys Solicitors are delighted to announce the opening of our new office in Colchester.
The office, which is based in The Crescent at Colchester Business Park, is by appointment only.
The photograph is of James Hayward, Kerseys Senior Partner, taken at our recent party to celebrate the opening of our Colchester office.