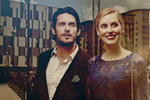 All About Ipswich Release Promotional Video
All About Ipswich has released a promotional video, showing off the best parts of the town.
It shows Ipswich as a place where people can visit and enjoy all the things the town has to offer. As the County town, Ipswich is ideally placed as the hub from which to explore everything Suffolk has to offer.
Watch the video —  and there are also links to behind the scenes footage showcasing the businesses and personalities behind the showcase video.